This is an archived article and the information in the article may be outdated. Please look at the time stamp on the story to see when it was last updated.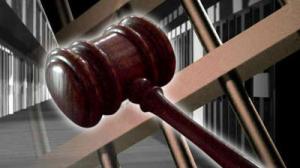 SAN DIEGO — Sentencing is scheduled Tuesday for a gang member who slashed his attorney on the cheek during a trial in which the defendant was convicted of trying to carry out a "hit" on a fellow inmate at Donovan State Prison for the Mexican Mafia in 2010.
Eduardo Macias, 33, was convicted in December, along with 36-year-old Geronimo Polina, of conspiracy to commit murder, attempted murder and assault. Jurors also found that the July 5, 2010, attack on Victor Ortiz was carried out for the benefit of a street gang.
A third man, Lionel Quinteros, was acquitted of conspiracy and attempted murder but convicted of assault by means likely to produce great bodily injury by a prisoner.
Macias faces life behind bars when he is sentenced Tuesday. Quinteros was sentenced to eight years in prison and Polina's sentencing is set for next month.
During his trial, Macias slashed attorney William Burgener on the cheek with a razor the defendant apparently smuggled into the courtroom in his mouth. The slashing took place in front of jurors and a group of about 20 high school students on a field trip.
Burgener needed stitches to close the wound. For the remainder of the trial after the attack on Burgener, Macias defended himself.
With regard to the attack on Ortiz, Macias said he acted alone and didn't try to kill the victim. But Deputy District Attorney Hector Jimenez, in his closing argument, said the defendants conspired to murder Ortiz to end a power struggle for control of the prison.
The prosecutor said Macias was "lying in wait" with a razor while Polina brought the victim to where he was in a prison yard. A prison guard fired numerous rounds to stop the attack.