This is an archived article and the information in the article may be outdated. Please look at the time stamp on the story to see when it was last updated.
SAN DIEGO – Funeral plans were announced for the two U.S. Navy sailors who died when the USS Fitzgerald collided with a container ship off the coast of Japan.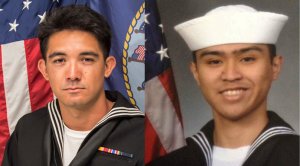 The body of Yeoman 3rd Class Shingo Alexander Douglass, of San Diego, will arrive at the San Diego International Airport Friday around 7:15 p.m.
The Douglass family has also requested privacy on the airfield for the transfer of Shingo's body. However, the Patriot Guard will escort Shingo's body from the airport, as they did for Carlos Sibayan Wednesday night.
The Patriot Guard plans to meet at Spanish Landing Park at 3900 N. Harbor Drive at 6:30 p.m. Friday.  They will head to El Camino Memorial Park at 5600 Carroll Canyon Road in Sorrento Valley.
The public is welcome to line the streets and encouraged to fly American flags.
A Navy official said there will be a viewing for Douglass Thursday July 6 at El Camino Memorial from 2 p.m. to 8 p.m.  His funeral will be held at Miramar National Cemetery Friday.
Fire Controlman 2nd Class Carlos Victor Ganzon Sibayan's funeral will be held Saturday, July 8 at Corpus Christi Church in Bonita at 10 a.m.
The two men were among seven sailors killed in the mid-June collision.
The Navy said sailors and community members in Yokosuka, Japan, have pulled together to assist Fitzgerald sailors and their families. The ship sustained serious damage on its forward starboard side, including flooding in two berthing spaces, a machinery space and a radio room, the Navy reported.
The vessel returned to port 16 hours after the collision.
The others killed were as follows:
Gunner's Mate Seaman Dakota Kyle Rigsby, 19, of Palmyra, Va.;
Sonar Technician 3rd Class Ngoc T Truong Huynh, 25, of Oakville, Conn.;
Gunner's Mate 2nd Class Noe Hernandez, 26, of Weslaco, Texas;
Personnel Specialist 1st Class Xavier Alec Martin, 24, of Halethorpe, Md.;
Fire Controlman 1st Class Gary Leo Rehm Jr., 37, of Elyria, Ohio.