This is an archived article and the information in the article may be outdated. Please look at the time stamp on the story to see when it was last updated.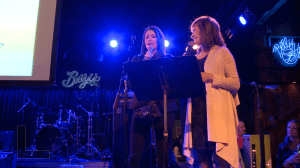 An event at the Belly Up in Solana Beach on Sunday raised tens of thousands of dollars in memory of San Diego newsman Loren Nancarrow.
After losing to his battle with brain cancer, his family and friends hope to raise money to support cancer research and name a special garden in Loren's honor.
Susan Taylor, a former San Diego news anchor but current head of external affairs for Scripps Health, says the garden is fitting because of Loren's love of the environment.
"This allows people to give back to him and say thank you for all that he did for this community for the past 30 years," said Taylor.
Susan was Loren's first co-anchor in San Diego, but Fox 5's Kathleen Bade was his last. She was honored to raise $1,000 during an auction by offering up a tour of the station and an opportunity to watch a live broadcast.
Those looking to help contribute can head to www.scripps.org/loren