This is an archived article and the information in the article may be outdated. Please look at the time stamp on the story to see when it was last updated.
SAN DIEGO — The public is invited to a fundraiser Monday afternoon supporting families of law enforcement personnel who lost their lives in service to the community.
Fundraiser for families of @SanDiegoPD Officers De Guzman and Irwin from 2pm-7pm pic.twitter.com/XcZXxCZzXL

— Jason Handman (@handman) August 29, 2016
Ahead of the fundraiser, the Viejas Band of Kumeyaay Indians donated $50,000 Monday to the San Diego Police Officers Association's Widows and Orphans Fund.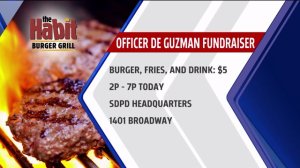 In announcing the contribution, tribe Chairman Robert Welch Jr. alluded to the July 28 shooting that killed Officer Jonathan "J.D." DeGuzman, a 16- year member of the San Diego Police Department, and seriously wounded his gang- unit partner, Officer Wade Irwin.
"Too often, the brave men and women that provide for our protection are senselessly killed in the line of duty," Welch said during a news conference in front of downtown SDPD headquarters. "For this, we are saddened, and we are grateful for their service and for their sacrifice."
San Diego Mayor Kevin Faulconer thanked the tribe's leadership for the "very generous" monetary gift to the police association.
"These, of course, are dollars that we hope we never have to use," Faulconer said. "When a police officer's life is cut short, this donation is one way we can make sure the family (gets) additional support."