This is an archived article and the information in the article may be outdated. Please look at the time stamp on the story to see when it was last updated.
IMPERIAL BEACH, Calif. — One of San Diego County's top 10 most wanted fugitives was arrested in Imperial Beach early Friday following a roughly eight hour SWAT standoff that forced dozens of residents from their homes, authorities said.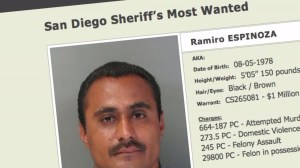 Ramiro Espinoza, 34, was taken into custody in the 300 block of Elkwood Avenue about 1:15 a.m., according to the San Diego County Sheriff's Department.
The incident began about 5:10 p.m. Thursday when a deputy responding to a report of gunfire in the area approached Espinoza and he allegedly jumped over a fence and took off running. Sheriff's spokeswoman Jan Caldwell told reporters that shots were fired by someone other than law enforcement, but they were unsure who pulled the trigger.
Deputies set up a perimeter in an area that included 22 homes, which were evacuated and searched one-by-one, Caldwell said.
Displaced residents were invited to go to nearby Mar Vista High School, where the Red Cross set up a temporary shelter, complete with food, water and beds for the night.
According to the Sheriff's Department's website, the 5-foot-5, 150-pound Espinoza was wanted on suspicion of attempted murder, domestic violence, felony assault and being a felon in possession of a weapon. He has a history of narcotics and domestic violence and has recently been involved in a series of violent domestic crimes in multiple areas of the county, including the Spring Valley area, the website said.