This is an archived article and the information in the article may be outdated. Please look at the time stamp on the story to see when it was last updated.
SAN DIEGO — A teenaged girl, who started in the slums of Uganda and became one of the best chess players around, inspired students in San Diego Monday.
The game of chess has taught 16-year-old Phiona Mutesi of Uganda a lot about life.
"All I love about this game is that it involves planning," said Mutesi. "It enables me to kind of figure out the best moves which is more like the same thing I do in the slums on a daily basis figuring out how to survive."
At the age of three, Mutesi's father died of AIDS and her mother did the best she could for Mutesi and her siblings. Mutesi struggled to eat.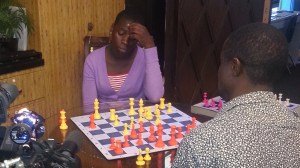 When she was about nine she met Robert Katende, a war refugee turned missionary working to empower kids through chess.  He placed a board in the dirt and offered kids a bowl of porridge and chess lessons.
"I was living a very hard life and used [the chess lessons] to simply go there and get a meal," said Mutesi.
It turned out Mutesi was very good and won her first tournament.  This year, she became the youngest person ever to win the African Chess Championship.
"When I won the cash prize, I realized that maybe there was hope. I took the money to my mother and we were able to pay some rent," she said.
On Monday, the three-time Women's Junior Chess Champion of Uganda visited Gompers Preparatory Academy in Chollas View to speak to students and to inspire them.  She also played chess with some of the chess club students.
"She inspired me by the hard work she put in, the effort. She told us to do the same," said sixth-grader Esmeralda Garcia.
"It's just an honor to have her here in our presence," said senior Samuel Straughn.
Mutesi said she hopes to continue to encourage other kids in America and back in Uganda.
"I really hope I just continue to pray for them to get a better life and I want them to be encouraged to work hard and not to lose hope," she said.
Mutesi's the subject of a new book called "The Queen of Katwe: A Story of Life, Chess, and One Extraordinary Girl's Dream of Becoming a Grandmaster".