This is an archived article and the information in the article may be outdated. Please look at the time stamp on the story to see when it was last updated.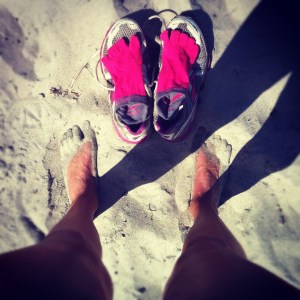 Many of you might be thinking, "big surprise, Heather is running another marathon!" I totally get it, people who love to run dozens of miles back to back must have a few screws loose, but hey, who doesn't? I'm excited to announce that I will be participating in the 2014 Boston Marathon, and my training starts January 6th. The next thing you may be thinking is, "how did she get a bib for Boston? Don't you have to qualify?". The answer is, I didn't qualify in 2013, but I did get granted a charity bib, which means you will run for a cause, raising money for a reputable non-profit and running lots of miles along the way. I'll be running and raising money for the Glen Doherty Memorial Foundation. For those of you who don't know Glen or his story, well, there's only so much I can write to explain the kind of person he is, and after that you just had to truly experience him yourself. Here's my feeble attempt:
Glen was what people would call "larger than life". He had a personality that would fill any room, stories that would fill any amount of time, and talents beyond compare. Glen was a retired US Navy SEAL, special operations contractor, and Crossfit coach. Glen and I had become training buddies and great friends. He too was an accomplished triathlete, and we would always compare stories. From fun and grueling Ironman training days, to even how our butts would hurt from riding so many miles on the coast highway (cyclists will understand). We spent three fun years, competing on the grinder at US Crossfit in Encinitas, or sweating out last night's party at Yoga Tropics. Glen could do anything, literally (although he wouldn't want me saying this), he was a cook, gardener, outdoorsmen, sharp shooter, and medic all wrapped into one.
I was used to Glen being away from time to time. As a contractor for the US government there were months that he would "go fight the bad guys" (he never gave us details) and then come home, okay and unharmed of course. But then, there was that one mission, the one where he wouldn't be okay, and the one where he wouldn't come home.
At the time of what would be his final deployment to Libya, I was one of Glen's roommates. I got to say proper goodbye, and I told him that I would take care of all of the plants in the garden (which he was very thankful for). One week later, news headlines broke about the September 11th attacks in Benghazi, and Glen's closest friends began a 24-hour buzz of text messages and emails. We were all trying to figure out where Glen was, and who were the three other Americans killed alongside Ambassador Stevens. For a bit, things were quiet, and hope was intact. We assumed no news was good news. Until there was a knock on our Encinitas door. I was home from work and my fiancé opened the door to see two people in dark suites from the State Department standing outside. Before they said a word, we knew what they were going to say. I just couldn't believe it. My friend Glen was unstoppable, he was the marvel comic super hero that always came back and finished the movie with a happy ending. But this time, it was real, and Glen was really gone.
He died saving people in the US Embassy in Benghazi, and he's what we call a true American hero. He spent years of his life serving this country and protecting our freedom. He was an incredible person and friend. I will run in honor of Glen on Marathon Monday.
In spite of the controversy and government fall out around what actually happened in Benghazi, I am ready to move past the attack and the terrorism. I am ready to move forward into a more positive place, which is what the Glen Doherty Memorial Foundation is all about. The foundation helps our American service members and their families with scholarships for school and post-military education programs. For more information visit www.glendohertyfoundation.org
Glen, was born and raised in Winchester, Mass. so there's no better place to run for Glen than to do it on his home turf. Follow me as I train for Boston. I'll be sharing my daily workouts, what I eat, when I sleep, and of course my crazy work routine as a morning TV reporter.
Twitter: @heatherfordfox5
Facebook: Heather Ford
Instagram: HeatherFOX5
#glenwouldgo