This is an archived article and the information in the article may be outdated. Please look at the time stamp on the story to see when it was last updated.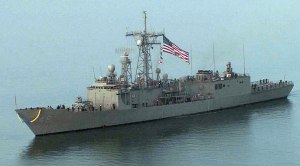 SAN DIEGO — The guided-missile frigate USS Vandegrift returned to its San Diego homeport Wednesday morning following a voyage in which its skipper was replaced for showing "poor leadership."

The ship cruised into San Diego Bay at about 7:30 a.m. and made its way under the Coronado bridge to its birth at Naval Station San Diego.
Cmdr. Joseph Darlak was replaced Nov. 2 on the orders of Capt. John Schultz, who heads Destroyer Squadron 15, "due to loss of confidence after
demonstrating poor leadership and failure to ensure the proper conduct of his wardroom officers" during a three-day stop in Vladivostok, Russia, starting Sept. 20, according to a U.S. Navy statement. During the port call, some of the Vandergrift's officers allegedly got drunk and became rowdy.

Vladivostok is Russia's biggest Pacific Ocean port and the headquarters of its Pacific fleet.
Darlak, who previously served as executive officer of the USS Stethem, a destroyer, assumed command of the Vandegrift only three months prior to his replacement.
The Navy has not commented on his next assignment.
The Vandegrift's executive officer, Lt. Cmdr. Ivan Jimenez, its chief engineer and its operations officer also were replaced.
Before the shakeup, the vessel and its crew of 184 took part in five exercises with the forces of Bangladesh, Brunei, Cambodia, Indonesia, Malaysia, the Philippines, Singapore and Thailand during an independent six-month voyage, according to the Navy. It also operated with the aircraft carrier USS George Washington.
Capt. H. Thomas Workman, who had been a deputy squadron commander, has commanded the Vandegrift since Darlak was cashiered.
The ship is named for General Alexander Vandegrift, who led Marines in the Battle of Guadalcanal during World War II and served as 18th commandant of the United States Marine Corps.