This is an archived article and the information in the article may be outdated. Please look at the time stamp on the story to see when it was last updated.
The search for a man suspected of kidnapping a 16-year-old East County girl and killing her mother and maybe her brother, focused on Oregon Wednesday.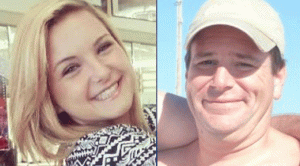 Law enforcement all across the United States is looking for James Lee DiMaggio. Late Wednesday, two sightings were reported in or near Oregon. One siting was reported in Lakeside, Ore., just across the California border and the other in Alturas in Northern California, near the Oregon border.
Meanwhile in San Diego County, family and friends were trying to deal with their grief while remaining hopeful for  safe return of Hannah Anderson.
"It's breaking my heart," said longtime friend and neighbor, Traci Paulson, who through her tears said she still can not believe what happened. "It's not even real, I know she's going to come in the house their going to have their dog and their going to have their family and we're going to go swimming."
Paulson said she was heartbroken and still in disbelief three days after learning her neighbor and best friend, 44-year-old Christina Anderson, had been murdered, and Anderson's two children, 16-year-old Hannah and 8-year-old Ethan were missing. Ethan is possibly dead. Hannah is believed to have been abducted by DiMaggio, a man the family knew and trusted.
"I would do anything, I would do anything for them to come home." Paulson said Wednesday afternoon, standing in front of the Anderson's apartment door. "I would do anything for us all to just be like we were before this happened."
A warrant has now been issued for DiMaggio's arrest, bond set at $1 million.
DiMaggio is facing multiple charges, including murder, kidnapping and arson. The motive is still unclear, but according to those who knew Hannah well, DiMaggio had confessed to having romantic feelings for the 16-year-old girl.
"He had a crush on her," explained Paulson. "She was scared and she didn't want to go around him anymore but didn't know how to tell anybody."
Day 3 and the Amber Alert is still in place for both children, but sheriff's deputies confirm the second remains found in DiMaggio's burned house, were consistent with that of an 8-year old boy, although an autopsy has yet to confirm the identity.
Meantime, in front of the Anderson's apartment door, well-wishers have placed flowers and candles as signs of hope for Hannah's safe return.
"She's strong, she will make it through this, She's smart and I pray to God, she's just playing into whatever he' doing," said Paulson. "I know she'll get away. I can feel it – she will come home."