This is an archived article and the information in the article may be outdated. Please look at the time stamp on the story to see when it was last updated.
CARLSBAD, Calif. – North County is fast becoming home of the newest extreme sport "freeboarding."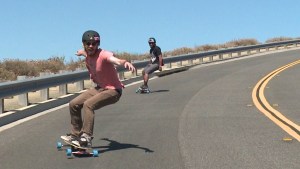 A hybrid of skateboarding and snowboarding, freeboarders have the ability to carve, spin and bomb down hills at close to 50 mph.
The original Freebord was introduced in 1992 and has been gaining momentum in the extreme sports world.
Freeboard competitions are based solely on creative video submissions due to the lack of money to be made, however it doesn't deter David Bicket and David Shotis from the sport. The rush is their real reward.
"You can be going over 20 miles per hour and do a spin on just the center wheels and it feels like you're floating on a cloud," said Bicket.  "It's like the greatest feeling ever. It's definitely addicting."
"I think of myself as a relatively quiet person," said Shotis. "But when I'm riding, it just gets me so pumped up that I'll just be flying down the hill with my arms out just screaming at the top of my longs. A little bit crazy I guess you can say."
Shoitis, a 19-year-old Freebord pro team rider living in Carlsbad, Calif., and Bicket, 25, a professional driver and entrepreneur based in Los Angeles, started up a riding group in San Diego after meeting at a Freebord Awards show.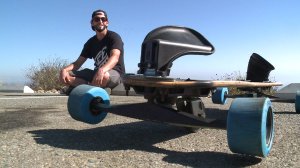 The hope is that, as the sport grows, there will be a freeboard park built for competition, and there's no better place than in San Diego.