This is an archived article and the information in the article may be outdated. Please look at the time stamp on the story to see when it was last updated.
SAN DIEGO — Free parking at the downtown San Diego Central Library will be extended from one hour to two hours starting in January, Interim Mayor Todd Gloria said Wednesday.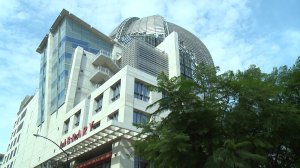 Parking had been free for the first two months after the library opened in September. Since then, the city allowed one free hour, then $1.25 every 20 minutes.
Gloria said at his weekly news briefing that it appears most people who park at libraries citywide do so for about an hour. Starting Jan. 2, downtown library patrons will get two free hours before being charged, he said.
"But let's face it, the new library is pretty awesome and we should be encouraging folks to stick around and enjoy it and check it out," Gloria said.
He said the city would monitor garage usage and listen to visitor feedback.