This is an archived article and the information in the article may be outdated. Please look at the time stamp on the story to see when it was last updated.
SAN DIEGO – San Diego's cycling community was shocked Wednesday after an avid cyclist was gravely injured in a crash at the Velodrome in Balboa Park.
Cyclists were mourning the loss of Jackie Price Dunn, who was left brain dead after an accident Tuesday on an enclosed track near Florida and Upas Streets.
"There's a tremendous feeling of loss and sadness," said Andrew Lee, owner of Adams Avenue Bicycles.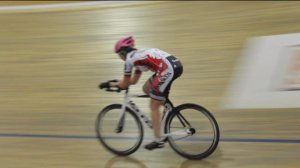 Details of the crash have not been released by the operators of the San Diego Velodrome, an enclosed track in Balboa Park.
Members of the cycling community are calling it a "freak accident." Dunn and another athlete's bicycles touched while riding on the track, causing Dunn to crash and hit her head.
Enclosed tracks are free of cars and considered one of the safest environments for cyclists.
"There is inherent risk in anything we do, especially the sports and hobbies we love so much.  Jackie is the type that would say that if you don't take those risks, then you aren't really living," said Sean Hill, Dunn's former physical trainer.
Friends and family said Dunn will be kept on life support for a short time, so her organs can be donated.