This is an archived article and the information in the article may be outdated. Please look at the time stamp on the story to see when it was last updated.
SAN DIEGO – Roam the halls and quads at San Diego City College and you'll hear students talking about the community college possibly turning into a four-year school.
A panel of college educators are looking into possibly turning community colleges into four-year schools, offering vocational and technical ba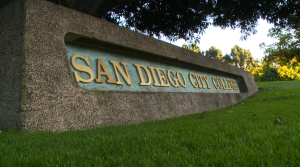 chelor's degrees available only at Cal State or U.C. universities.
"Honestly, it's no different than going to a university or going here, so why transfer?" said first year student Sadie Chavez.
Chavez and other students told Fox5 it would be an ideal situation to remain at the community college without having to transfer.
"That would help a lot of students, only because as hard as it is now to stay here, moving on to find different schools and all that is 10 times harder," said City College student Monica Navarro.
Another big reason students like this idea is money.
"The money is a huge issue. It's very expensive to even go here as it is, going to a big university is worse," said Chavez.
When comparing the tuition at California schools, it's easy to see why community colleges offer a good deal.
It costs almost $5,500 plus fees a year to attend a California State University school – based on 24 units. At U.C. schools, it costs around $36,000 plus fees. At a community college, it's roughly $1,100 plus fees.
Student Adrian Carrillo is all for the possible change.
"It's an exceptional idea to offer it with a community college where it's more accessible, it would make a college education affordable," said Carrillo.