This is an archived article and the information in the article may be outdated. Please look at the time stamp on the story to see when it was last updated.
SAN DIEGO — Some San Diego schools are using ukuleles to help students better understand fractions, history, geography and poetry.
For years, the non-profit Guitars in the Classroom, based in San Diego, has offered guitars and free lessons for non-musical teachers across the country.
"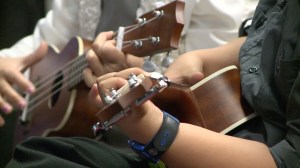 It's for the purpose of learning all the academic subjects because that would give the kids a way to engage in a really vibrant way with  the content in their lessons," said Jess Baron, Executive Director of Guitars in the Classroom.
Baron said it's music integration as opposed to music education.
"We memorize multiplication by singing it" she said. "We get really good at spelling our sight words by putting them into the song B-I-N-G-O ."
Recently the program got a major donation of ukuleles from Kala Brand Music Company, 11 pallets or nearly 1000 ukuleles.  Patty Bertram's entire 3rd grade class at Sandburg Elementary School  got ukuleles to use.
"The most important thing is it's fun," said Bertram. "They don't even know they're working."
Bertram said before they received the ukuleles a few months ago, her students were struggling with writing conclusions in their stories.
"We started doing conclusions on the songs," said Bertram.   "That made a world of difference when we did that, so there conclusions are much better in their writing."
"My favorite is the fraction song," said one student. "It helps me do my fractions in math."
Jess Baron said several schools in Los Angeles and Santa Barbara have received the ukuleles and 15 schools in San Diego. She said she would like to have the resources to offer the instruments for every classroom.
"We want to see music be an implicit part of childhood because it brings in not just the learning but also joy and play," said Baron.
To learn more about Guitars in the Classroom, click here.