This is an archived article and the information in the article may be outdated. Please look at the time stamp on the story to see when it was last updated.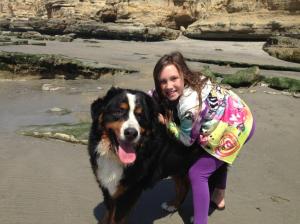 These past four years I've tweeted, written, blogged and even broadcast anecdotes about life with my 140 pound dog Barkley.  There was always plenty of material highlighting the copious amounts of drool, fur and messes that perpetually followed in his wake.  His enormous tail fanned through rooms like a machete to a cornfield.  In fact, I often referred to him as the "comedy of our lives", because from the moment he trotted into it, he made a ludicrous impact.  His weight alone, made sure of that.
Well, this past August 19th, my beautiful boy left us, passing away in a quick and cruel manner theorized as a brain tumor, disease or cancer.  No one knew for sure.  What we did know, is that this giant presence who greeted us at the door, sat on our feet forcing us to "stay", and gnawed on our friends (Chargers Defensive Coordinator John Pagano his favorite chew toy), created an absence just as large.  We are devastated.  He was only four.
My 13 year old son is taking it hard.  As a token of his special closeness to Barks, I gave him his collar and he put it in a place of honor in his room among his prized trophies.  We are planning to scatter his ashes at a local dog beach or bury him in the yard with a private ceremony of sorts.  The kids are mulling that all over.  I may "take" a small piece of him for myself and pour his ashes in Coronado at the dog beach we often played together – he loved it there so much.  Just one of many beaches he routinely gulped down saltwater – surprised each time it didn't taste good.  (I said he was pretty, I didn't say he was sharp.)
As we prepare to try and say goodbye and suture the gaping holes in our hearts, questions emerge on just how to proceed.  I've asked friends and colleagues, read articles and researched how to handle death of a loved one (hairy or not) when it comes to kids.  I've received such pearls as "get a new dog right away" or "be sure to have a memorial" and "just let them cry".  I'm sure they're all worthy, but I still feel at a loss.
I tell my kids, particularly my son, to cry as much and as often as he wants, revealing I've been crying nightly in the bathroom trying to cleanse my own sorrow.  I remind him it will take time for us to heal and that when we are ready we will get a new pet.  His tearful reply remains steadfast:  "I just want Barkley back."  I have to agree.
Whether it was his ginormous "poop towers" the kids reluctantly scooped up in the yard, his racing around the perimeter of the pool not allowing swimmers to get out – forcing them to tread water, or the groaning moaning sounds he made when you pet behind his ears just right – there is no replacing his kooky quirks that made him ours.  His enormous and expensive appetite, fraidy cat habits of running away from brooms, hoses, or hairdryers, his refusal to "stay" under any circumstance and his rock star status the moment we entered any park, room or vet office will forever be missed and unparalleled.
I have not made sense yet of why he was taken so soon.  Why it had to be such a cruel deterioration, starting with a drooping eye and ending in total paralysis within two weeks time.  Why we couldn't save him.  Why we have to live with not knowing for sure, if he knew how much we really loved him.
All I do know is why we did…and the list is endless.  Perhaps that will be enough.
In loving memory of my Boo…XOXO Barkley.