This is an archived article and the information in the article may be outdated. Please look at the time stamp on the story to see when it was last updated.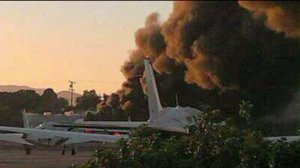 SANTA MONICA, California (CNN) — Four people were on board a business jet that crashed into a hangar at the Santa Monica Airport, the Los Angeles County Coroner's office said Tuesday.
No one survived Sunday's crash and subsequent fire. The victims were two women and two men, but their identities were not released. Two cats and a dog were also aboard the plane.
The twin-engine Cessna Citation ran off the right side of the runway after landing at 6:20 p.m. PT, said Federal Aviation Administration spokesman Ian Gregor.
The hangar collapsed and was too unstable for firefighters to enter, said Captain John Nevandro of the Santa Monica Fire Department.
"It was an unsurvivable crash," Nevandro said.
There was no communication with the pilot to indicate mechanical failure, Van McKenny, an investigator with the National Transportation Safety Board, said Monday at a news conference.
Charles Muttillo, vice president of Morley Builders of Santa Monica, issued a statement Monday saying the company's president and CEO and his son were believed to be on the plane.
"We are aware of a plane crash at Santa Monica Airport last night. While we do not have specific facts, we believe that our President and CEO, Mark Benjamin, and his son, Luke Benjamin, a Senior Project Engineer with us were on board," the statement read.