This is an archived article and the information in the article may be outdated. Please look at the time stamp on the story to see when it was last updated.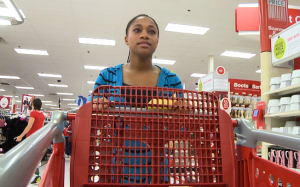 ESCONDIDO, Calif. – A teenager's dream to go on a shopping spree with someone else picking up the bill came true Monday.
More than a thousand San Diego foster teenagers went on a shopping spree Monday evening after a North County couple donated $250,000 to make it possible.
Tierra, 17, was among the approximately 1,200 foster teens who received between $150 and $200 to spend at Target.
"I was actually really excited," said Tierra, who has been a part of the San Diego foster system for the last eight years and hasn't spent the holidays with a family in years.
"The love isn't there," said Tierra. "Waking up in the morning and having your family all around the tree, that's not there."
The high school senior said she wants to become a nurse and has been accepted to two colleges.  She used the money to buy necessities for school.
"I'm getting pots and pans and some Tupperware," she said.
This holiday miracle is a reality thanks to an unnamed couple who donated the money.  This is not the first time they have shown their generosity.  The couple has donated large sums of money to similar programs in previous years.
"People love to shop for little kids," said Tonya Torosian who is the CEO of Promises2Kids.org, an organization that helps abused and neglected kids. "But when it comes to providing gifts for teenagers, we often come up short."
Since its inception, Promises2Kids has distributed nearly $21 million for the care and protection of abused and neglected children and provided services for more than 166,000 children in need including current and former foster youth.
Tierra said the gift means a lot to her.
"I'm grateful and just so honored that I'm one of the people able to use the money wisely," she added.