This is an archived article and the information in the article may be outdated. Please look at the time stamp on the story to see when it was last updated.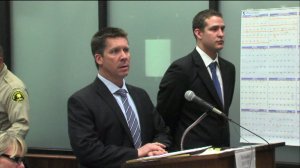 SAN DIEGO — A preliminary hearing is scheduled Tuesday for a former San Diego police officer accused of groping four women during pat-down searches last year.
   Christopher Hays, 30, was charged in February with two counts of felony false imprisonment and three counts of misdemeanor sexual battery. He faces up to three years and eight months in prison if convicted.
   Hays — a four-year veteran of the San Diego Police Department — resigned a day after the charges were handed down. He remains free on $130,000 bail.
   The charges filed against Hays involve four women allegedly victimized between October and December of last year, according to District Attorney Bonnie Dumanis.
   Three other women have come forward to allege they were victimized by Hays, but no additional charges have been filed. Hays surrendered to authorities Feb. 9, was booked into jail and released after posting bail.
   One of Hays' alleged victims told police the officer forced her to perform a sex act in the back of his patrol car, prosecutors said.
   Hays is a former Marine and married father of two whose father-in-law is Assistant San Diego police Chief Mark Jones.
   The defendant had been under investigation on suspicion of improperly touching women while detaining them for various reasons, ranging from a domestic violence call to a suspected shoplifting incident, according to SDPD officials.
   Four alleged victims told investigators that Hays, assigned to the Mid- City Division, improperly touched them through their clothing, with no "skin- to-skin contact," said then-San Diego police Chief William Lansdowne.