This is an archived article and the information in the article may be outdated. Please look at the time stamp on the story to see when it was last updated.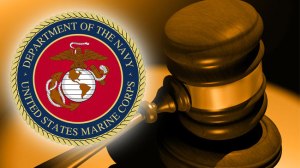 SAN DIEGO — A former Marine has been sentenced to five years and three months in federal prison for accepting $150,000 in bribes from military contractors while he was deployed in Iraq.
Gilbert Mendez, 37, a former staff sergeant, is the 10th Marine who was stationed at Camp Fallouja to be convicted of corruption or fraud-related offensives, according to the U.S. attorney's office in San Diego.
Mendez pleaded guilty to conspiracy to commit wire fraud.
U.S. District Court Judge Janis Sammartino, in sentencing Mendez on Friday in San Diego, said that he had "breached his honor and his integrity." He was ordered to repay $150,000 to the Department of Defense.
Mendez, who served at the base in 2006, admitted that he took the bribes to award more than $2.6 million in contracts for three foreign-owned firms to provide goods and services at the base in Anbar province.