This is an archived article and the information in the article may be outdated. Please look at the time stamp on the story to see when it was last updated.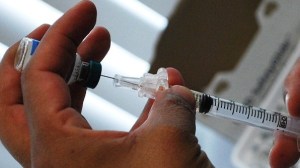 SAN DIEGO — An all-time high of 60 people have died of the flu in the San Diego area during the latest "flu season," the county Health and Human Services Agency announced Wednesday.
The total tops the previous record of 58 during the H1N1 pandemic three years ago.
Most of the deaths this season involved elderly victims, and all but one had an underlying medical condition, according to the HHSA.
The agency blamed a severe strain of the illness — H3N2 — which took even healthy people a couple of weeks to shake.
"Influenza deaths are very unfortunate but serve as a strong reminder that people should get vaccinated," said Dr. Wilma Wooten, the county public health officer. "Severe strains of influenza, such as H3N2, are especially dangerous for the elderly and people with underlying medical conditions."
More than 5,300 influenza cases in San Diego have been confirmed by laboratories during flu season, with the peak near the end of January and early in February. A relatively small amount of cases — 58 — were diagnosed last week, the HHSA said.
The agency said flu season typically ends in early April, but since the illness remains present throughout the year, people should still take precautions like washing hands regularly and staying away from those who are sick. Those who catch the flu are encouraged to stay home.