This is an archived article and the information in the article may be outdated. Please look at the time stamp on the story to see when it was last updated.
SAN DIEGO – Nearly a month after several former supporters of San Diego Mayor Bob Filner asked him to resign amid sex harassment claims, former Assemblyman Nathan Fletcher chimed in.
Fletcher appeared on Fox5 Thursday offering his opinion on the future of Filner in the mayor's office.
"We are a great city and we have a mayor that is an international embarrassment. Which is why so many of us have called on him to resign," said Fletcher, who previously tweeted that he called Filner requesting him to resign.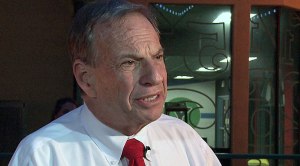 Filner has so far rebuffed numerous calls for his resignation from political and business leaders, including seven of the nine members of the City Council, the San Diego County Democratic Party Central Committee, former Mayor Jerry Sanders, Sen. Dianne Feinstein, D-Calif., Assembly Speaker John Perez, D- Los Angeles and Senate Majority Leader Darrell Steinberg, D-Sacramento.
Over a dozen women have come forward in recent weeks accusing the embattled mayor of sexual harassment and unwanted advances on them, including two city workers.  The first to step forward, former mayoral Communications Director Irene McCormack Jackson, hired Los Angeles-based women's rights attorney Gloria Allred and sued Filner and the city.
"Every day this situation keeps getting worse.  There are rape victims getting harassed," he said. "Their lives have been traumatized and the great difficulty they've gone through to come forward and relive it."
On Monday, Filner started a two-week behavior modification program after refusing requests to resign.  Fletcher was asked if Filner will be able to come back from his two-week hiatus and get things done in the mayor's office.
"No, I don't see many things getting done," he said. "I think when he returns the office will go from empty to ineffective."
Fletcher went on to point out law enforcement officers and other city workers are dedicated to their jobs and are "fortunately" getting things done without the leadership of Filner.
"That critical leadership role of actually moving us forward in the future is not being and won't be filled by this mayor," he said.
A potentially costly effort to recall Filner from running the City of San Diego is underway.  A group's attempt to gather over 101,000 valid signatures for the Filner recall petition to qualify for the ballot will start August 18.
"I think San Diegans are embarrassed and angry and want this mayor gone by any means necessary, but it shouldn't have to come to that," Fletcher said. "Bob can do the right thing and spare us the drama of a recall. He'd do the right thing for the city, victims and himself by stepping forward and resigning."
Fletcher even told Fox5 that he'd consider throwing his hat in the ring if the mayor's seat opens up.
"I'd have to consider it. I've been humbled by the number of folks that have reached out for the last few weeks and provided a lot of encouragement," Fletcher said. "But as of right now, the office isn't open. If it becomes open than that's a decision that I'll have to make."
Until that happens, Fletcher can be found teaching at University of California, San Diego, working for Qualcomm and with his family.