This is an archived article and the information in the article may be outdated. Please look at the time stamp on the story to see when it was last updated.
SAN DIEGO — Two suspected car thieves escaped from police early Wednesday after they crashed a stolen car into a College Area business.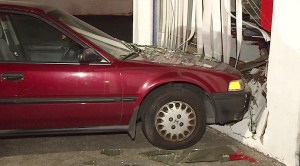 Both the driver and passenger jumped out of the car and ran off. They were being chased by San Diego State University police when the driver apparently lost control and smashed into a silk screen print shop on El Cajon Boulevard. The car hit a wall and shattered the front window.
Business owner Nathan Brooks remained positive as he surveyed the damage. He said he will be open for business.
"None of my equipment was damaged, so I will be working," Brooks said. "It's just a minor setback with the wall and glass, so we won't have air conditioning for two or three days, but I'll be working."
Officers searched the area for the suspects but made no arrests.