This is an archived article and the information in the article may be outdated. Please look at the time stamp on the story to see when it was last updated.
EL CAJON, Calif. – A wanted felon armed with a gun led sheriff's deputies on a brief pursuit in the East County Monday before crashing a sports car through a fence and into the side of a house, according to authorities.
"I jumped out of bed and I was just screaming and then I heard police yelling at the guy on the ground or they were gonna shoot him." said Tracy Gilbride, who was asleep in her bedroom at the time of the crash.
Deputies were dispatched shortly before 5 a.m. to the 300 block of North First Street in unincorporated El Cajon on a report of a "suspicious person" armed with a handgun, according to sheriff's Sgt. Miguel Lopez.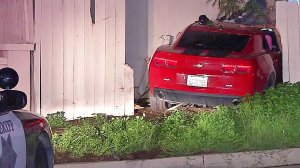 The caller alleged that 26-year-old Josh Little showed him a gun, then loaded it into a newer-model red Chevrolet Camaro.
"When deputies arrived at the location, they saw a vehicle matching the suspect description leaving the area," Lopez said. "Deputies attempted to stop the vehicle, but Little fled. Within seconds, deputies lost sight of him, so they continued to check the area."
The deputies caught up with Little in the 1700 block of North Mollison Avenue, where he  crashed the Camaro into a fence and into the side of home, according to Lopez. Neither Little nor anyone inside the home was injured, he said.
"I don't think they should have been chasing someone down a residential street," said Gilbride.
According to the Sheriff's Office Mollison Avenue is both commercial and residential. A pursuit policy is in place, but it's on a case by case basis and in this case, Little was not being chased at the time of the crash.
Little was taken into custody without further incident and arrested on suspicion of felony evading and possession of narcotics and paraphernalia. A handgun cartridge, but no gun, was found in the car by deputies, according to Lopez, who said Little also was named in a "no bail" felony parole arrest warrant.
El Cajon police were called about 7:45 a.m. by someone who reported finding a handgun near the area of Spinel Avenue and North Mollison Avenue, which was along the pursuit path, Lopez said. The handgun was the same caliber as the ammunition located inside Little's car, he said.