This is an archived article and the information in the article may be outdated. Please look at the time stamp on the story to see when it was last updated.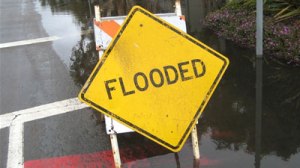 SAN DIEGO – Heavy rain about seven miles south of Mount Laguna Saturday led to flash flooding, and the National Weather Service issued a warning for southeastern San Diego County set to remain in effect until 7:15 p.m.
By 4:30 p.m., 1.5 inches of rain had fallen in the area three miles southwest of Mount Laguna and forecasters said the downpour was likely to produce flooding in the vicinity of Old Mine Road.
"Excessive runoff from the heavy rainfall will cause flooding of small creeks and streams, country roads as well as farmland along the banks of creeks and streams," the warning stated.
Those in the warning area were advised to avoid driving their vehicles into water covering a roadway because flood waters are usually deeper than they appear.
"Just one foot of flowing water is powerful enough to sweep vehicles off the road," forecasters said.
"When encountering flooded roads make the smart choice, turn around, don't drown."
A less-severe flash flood watch will remain in effect through Sunday evening for recently burned areas in the mountains and deserts, where showers and isolated thunderstorms expected this weekend could raise the risk for flash floods.
Meteorologists said the amount of precipitation needed to produce a flash flood in newly burned areas is three-tenths of an inch in 30 minutes.
Any thunderstorm that occurs through Sunday evening could produce that amount.
The weather service advised area residents to monitor forecasts and to be prepared to take action if a flash flood warning is issued.
Also this weekend, strong rip currents and elevated surf are expected along south and southwest facing coastal areas in North County and from Point Loma to La Jolla, according to the NWS.
The surf and rip currents could cause dangerous conditions, especially for inexperienced swimmers, and forecasters advised beachgoers to obey posted warning signs and talk to a lifeguard before swimming.
Evening high tides of above seven feet combined with the elevated surf could also lead to minor tidal overflow, the NWS said.
Water will likely wash into normally dry low-lying areas, such as along The Strand in Oceanside, and possibly into nearby streets and parking lots, according to the weather service.