This is an archived article and the information in the article may be outdated. Please look at the time stamp on the story to see when it was last updated.
SAN DIEGO – Flames were seen shooting from the back end of the Rapid Express bus parked in the median of state Route 163 near Kearny Villa Road Wednesday evening.
Firefighters arrived within minutes and quickly extinguished the fire that erupted on the San Diego Metropolitan Transit System bus.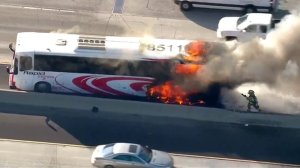 No passengers were aboard the city bus when the fire started, according to authorities. The driver escaped unharmed.
The Rapid Express, which was being operated by contractor Transdav, was not in service and headed back to the bus yard when the fire started.
Officials believe the bus is a total loss. What caused the fire to spark was unknown and under investigation.
California Highway Patrol issued a SIG Alert on southbound lanes of SR-163 to allow crews to clean up the destroyed bus.