This is an archived article and the information in the article may be outdated. Please look at the time stamp on the story to see when it was last updated.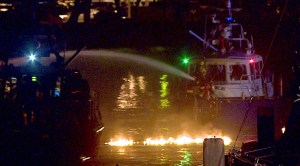 SAN DIEGO – Firefighters battled a fire that started on one boat and spread to a second vessel docked at Harbor Island Thursday night.
The fire spread from a 30-foot boat to another moored nearby around 9:30 p.m. Thursday, according to San Diego Fire-Rescue Department dispatch supervisor Nick Wright said. It was unclear whether anyone was aboard the boats when they caught fire.
Ten units from the fire-rescue department fought the fire, Wright said, adding three boats from San Diego Harbor Police were also involved in the firefight, Wright said.
The fire was knocked down after 40 minutes, Wright said, but firefighters were still trying to ascertain the cause of the fire.