This is an archived article and the information in the article may be outdated. Please look at the time stamp on the story to see when it was last updated.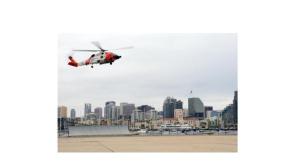 SAN DIEGO — A U.S. Coast Guard helicopter flew a 71-year-old man to a San Diego hospital Tuesday after he suffered a possible heart attack on a fishing boat 30 miles off San Diego.
The man was aboard the 56-foot commercial fishing boat Seeker when he collapsed, injuring himself just before noon, the Los Angeles Times reported.
The Coast Guard dispatches an MH-60 Jayhawk helicopter from San Diego after receiving a mayday call from the Seeker. It hoisted the man aboard flew him to San Diego for emergency medical care.
The man's identity and condition were not immediately available.