This is an archived article and the information in the article may be outdated. Please look at the time stamp on the story to see when it was last updated.
SAN DIEGO — The first storm of the season is bringing much cooler temperatures, light rain and gusty winds to San Diego County Wednesday, meteorologists said.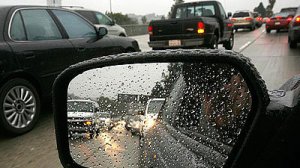 "This weather will be sharply colder than this past weekend and could be deadly for unprepared campers and hikers," according to the National Weather Service.
High temperatures in the region will be 15 to 25 degrees below average for the time of year, meaning they'll be in the mid-50s to mid-60s in coastal and valley areas, mid-30s to mid-50s in the mountains, the 60s in the upper deserts and in the 70s in the lower deserts, an NWS advisory said.
Rainfall from the system was expected to range from around a tenth to a third of an inch near the coast to a half to one and a quarter inch in the mountains.
A high wind warning took effect early Wednesday in the mountains and deserts. The warning will remain in effect until 3 a.m. Thursday. A high wind warning is issued when winds capable of causing property damage are expected or occurring.
The strongest winds will be near ridge tops and along desert slopes, according to the weather service, which forecast sustained winds of 25 to 35 miles per hour and gusts of up to 65 mph Wednesday.
"The winds will make driving difficult, especially for motorists with high profile vehicles," an NWS advisory said. "Watch for broken tree limbs and downed power lines."
Snowfall was possible in the county's highest peaks, though it would be a small amount, if any. The NWS said the snow level would drop to 5,500 to 6,000 feet tonight through early Thursday, with a few inches of snowfall possible above 6,000 feet and around a half-foot above 7,000 feet.