This is an archived article and the information in the article may be outdated. Please look at the time stamp on the story to see when it was last updated.
SAN DIEGO – About 150 San Diego fire crews have been deployed to help battle the blazes in Riverside and near Los Angeles, and FEMA has agreed to help fund the fire fight.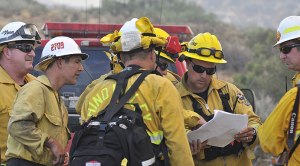 The state of California submitted a request for a fire management assistance declaration Thursday for the Springs Fire burning in Ventura County. At the time of the request, the fire was threatening 300 homes and 3,000 apartments in and around Camarillo Springs, Dos Vientos, and California State University, Channel Islands, with a total area population of about 10,000. All of the threatened homes are primary residences.
As of Thursday evening, the fire has burned in excess of 6,500 acres of state and private land.
In San Diego County, several small brush fires erupted including one in Lakeside, Alpine and City Heights.  All were put out quickly, but fire officials said the perfect recipe has been created for a fire.
"We always have the potential for a bad year," said Cal-Fire Battalion Chief Daryll Pina.  "Fires are random.  We could have a lightening storm come through here ignited them."
Pina said areas of Alpine are so dry they could ignite and quickly spread if a fire sparked in the area.  Near Vista Point off Interstate 8 in Alpine the dry vegetation can be seen for miles.
"It's dry and ready to go," added Pina.
A dry winter season, recent high winds, and warmer temperatures are creating the perfect environment for a fire storm.  As a result, Cal-Fire crews aren't allowed to take any time off and back up crews are working to man local stations.
Residents are urged to clear any dead brush around their homes, at least 100 feet from their front door.
Cal-Fire asks that everyone use common sense this time of year as well.   Most brush fires are caused by humans either by cigarettes, flying car parts or standard lawn mowing equipment.
According to Chief Pina, San Diego County has 900 miles of canyon rim from the coast to inland areas, and they could easily catch fire.