This is an archived article and the information in the article may be outdated. Please look at the time stamp on the story to see when it was last updated.
CARLSBAD, Calif. – A badly burned body was discovered in land scorched by a wildfire in Carlsbad, authorities said Thursday.
Firefighters located the body when they were checking hotspots near Ambrosia Lane and Calliandra Road in Carlsbad Thursday, a Carlsbad official said.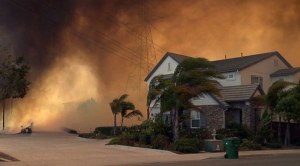 Officials said the area where the unidentified body was found is a known to be where homeless people spend time.
A 400-acre wind-driven brush fire that damaged or destroyed about 30 Carlsbad residences and commercial buildings, downed power lines and forced thousands of evacuations was about 60 percent contained Thursday.
The so-called Poinsettia Fire broke out for unknown reasons shortly after 10:30 a.m. Wednesday near Poinsettia Lane and Alicante Road, just east of El Camino Real.
Winds quickly pushed the flames about 400 acres and west toward neighborhoods and some high-tech businesses.
The cause of the fire is under investigation.
No other injuries have been reported.