This is an archived article and the information in the article may be outdated. Please look at the time stamp on the story to see when it was last updated.
JULIAN, Calif. – Crews battled a brush fire southeast of Julian that scorched about 750 acres of brush Sunday, fire officials said.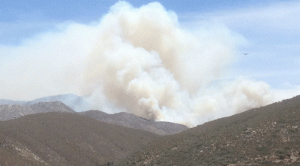 No structures were threatened by the so-called General Fire, which was called in Sunday afternoon south of state Route 78 in the Banner Grade area, according to Cal Fire Capt. Mike Mohler.

The fire may have damaged a few old gold mines, area residents told Fox 5.
Firefighters requested state Route 78 be closed between Wynola Road east of Julian and county Highway S-2 at Scissors Crossing. But California Highway Patrol officers on that 10-mile stretch of road said conditions were rapidly changing, and the road from Julian to Imperial County was open but being watched.

Mohler said the blaze was separate from the San Felipe Fire, which blackened about 2,650 acres of desert north of Scissors Crossing, about 30 miles east of Julian.

The General Fire's cause remained under investigation, Mohler said.