This is an archived article and the information in the article may be outdated. Please look at the time stamp on the story to see when it was last updated.
CARLSBAD, Calif. — A wind-driven brush fire tore through Carlsbad Wednesday, damaging or destroying more than two dozen residences, downing power lines and forcing evacuations of thousands of residents, students and tourists at the Legoland amusement park.
The blaze broke out for unknown reasons shortly after 10:30 a.m. near Poinsettia Lane and Alicante Road, just east of El Camino Real. Winds quickly pushed the flames west toward neighborhoods and some high-tech businesses, with the first reports of homes burning coming about 12:30 p.m.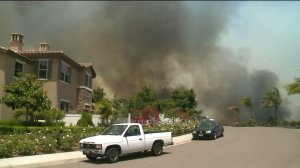 The flames spread to more than 100 acres and damaged or destroyed an 18- unit apartment complex, eight houses and two commercial structures, city officials said. The damage was estimated at $18.5 million.
Neighborhoods along Aviara Parkway and Black Rail Road sustained most of the damage, Cal Fire Battalion Chief Nick Schuler said. Those not evacuated were asked to shelter in place.
As of 3 p.m., crews had stopped the spread of the blaze, dubbed the Poinsettia Fire, though some areas were still actively burning, Schuler said. No injuries were reported.
The burn area was about 10 percent contained as of 9:30 p.m., city officials said.
The city issued 15,000 evacuation notices to residents west of El Fuerte Road, south of Palomar Airport Road and north of Aviara Parkway.
The evacuation order was later lifted for those in the area east of El Camino Real, south of Alga Road; on Aviara Parkway from Poinsettia to Ambrosia lanes; areas south of Aviara Parkway; and on Black Rail and Nightshade roads; Tohee Lane; Cormorant Drive; and Baccharis Avenue.
All hotels near the airport on Palomar Airport Road are also open, according to city officials.
Temporary shelters for the displaced were set up at Calavera Hills Community Center, 2997 Glasgow Drive, and La Costa Canyon High School, 1 Maverick Way. Pets are only allowed at the La Costa Canyon High School.
City officials said both shelters were fully stocked and were not in need of donations or additional volunteers.
"If you have been asked to evacuate, please do so," Cal Fire Capt. Mike Mohler said. "You may not see smoke immediately in your neighborhood. But … with a wind-driven fire, we have to look ahead of this at where it might go."
More than 11,600 residences and businesses received "reverse 911" calls urging the occupants to leave, county officials said.
Mohler said firefighters were up against extreme conditions.
"This is a very difficult firefight. This is an urban wildland firefight, so it is definitely more difficult than you would see in a more rural setting," he said.
Among sites evacuated were Aviara Oaks elementary and middle schools, and Poinsettia Elementary, according to Carlsbad Unified School District officials, who stated that students were not in danger.
Aviara Oaks students were taken to the Brighton Gardens Senior Center at El Camino Real and Aviara Parkway, while Poinsettia Elementary pupils were transported to Carrillo Elementary School at 2875 Poinsettia Lane in San Marcos.
The fire was somewhat close to McClellan-Palomar Airport, but flight operations were not significantly affected, said Ian Gregor of the Federal Aviation Administration. Aircraft were being directed around the smoke, he said.
Dove Library, Aviara Community Park and Alga Norte Community Park were closed, and Legoland California was evacuated as a safety precaution because of electrical power surges, officials said.
The blaze came amid a heat wave that was pushing temperatures well into the 90s along the coast. Winds, however, were not as strong as on Tuesday, when a wildfire charred 1,548 acres between 4S Ranch and Rancho Santa Fe.
"We say all Southern California is in year-round fire season and this is unfortunately a perfect example," Mohler said.