This is an archived article and the information in the article may be outdated. Please look at the time stamp on the story to see when it was last updated.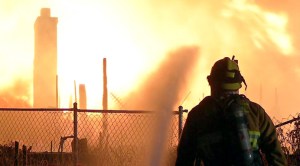 SAN DIEGO — A vacant home and an abandoned trailer in Lakeside caught fire early Monday but no one was hurt, authorities said.
The blaze at the vacant home in the area of Lemon Crest and Single Oak drives in Lakeside was reported just after 1 a.m., according to a Heartland fire dispatcher. It took more than an hour for crews to control the blaze, she said.
Crews responded a second structure fire at 1:53 a.m. in the San Diego neighborhood of Allied Gardens. A clubhouse in an abandoned mobile home park in the area of Greenbrier Avenue and Mission Gorge Road caught fire, according to a San Diego fire-rescue dispatcher. It was knocked down within about 40 minutes, he said.
It was the second time this month San Diego fire-rescue was called to douse a fire in the abandoned mobile home park. Around 2:30 a.m. last Wednesday, a fire broke out in a roughly 20-by-35-foot outbuilding in the park.
The cause of the fires was under investigation. The fires occurred about 13 miles apart and are not believed to be related.