This is an archived article and the information in the article may be outdated. Please look at the time stamp on the story to see when it was last updated.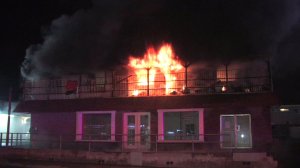 EL CAJON, Calif. — Two men found themselves displaced Friday by a fire that destroyed three apartments situated above a vacant commercial business in El Cajon, causing $150,000 in damage, authorities said.
The noninjury fire at 1281 N. Second St. erupted about 10:30 p.m. Thursday, according to Heartland fire and rescue spokeswoman Monica Zech. It took crews about a half-hour to contain the blaze, she said in a statement.
Two of the three apartments were vacant, along with the commercial business space, Zech said, noting the latter sustained smoke and water damage.
"The exact cause of the fire is under investigation, but it appears to be accidental in nature," she said.
Damage was estimated at $150,000.
The Red Cross assisted the two displaced men with temporary shelter.