This is an archived article and the information in the article may be outdated. Please look at the time stamp on the story to see when it was last updated.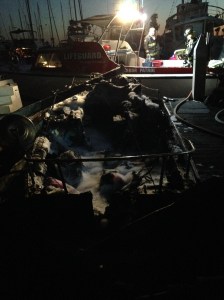 SAN DIEGO — An investigation was under way Monday into what sparked a fire aboard a 25-foot sailboat at Driscoll's Marina in Mission Bay.
The noninjury fire in the vicinity of 1500 block of Quivera Road was reported at 7:16 p.m. Sunday, according to San Diego fire-rescue spokesman Lee Swanson.
A San Diego city lifeguard's fire boat got in the water and quickly knocked flames down using foam, he said in a statement, adding that the fire was fully out about 20 minutes after it was reported.
"The sailboat is a complete loss," Swanson said. "There is minor heat damage to a neighboring boat."