This is an archived article and the information in the article may be outdated. Please look at the time stamp on the story to see when it was last updated.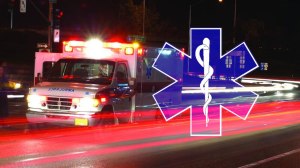 SAN DIEGO – A pair of City Council members and the head of the local firefighters union expressed disappointment Wednesday with a decision by Interim Mayor Todd Gloria to shut out the San Diego Fire-Rescue Department from bidding on the city's next ambulance services contract.
Rural-Metro, a company that provides emergency medical services in a few hundred cities nationwide, has operated ambulances in San Diego since 1997, but its contract is due to expire at the end of the fiscal year on June 30.
Fire department officials and the firefighters union, while acknowledging a good relationship with Rural-Metro, have previously said they were interested in taking ambulance services in-house, and they gained the support of some council members last month.
However, Gloria wrote in a memo distributed Tuesday that the City Attorney's Office has opined that the city can't simply take over ambulance services.
He also wrote that the department can't legally compete for the next contract — which would have a five-year term — because it helped put together a request for proposals that will be used for the bidding.
"I'm disappointed," Councilwoman Myrtle Cole said at a meeting of the City Council's Public Safety and Neighborhood Services Committee.
"I would like to see our fire department be able to bid."
Her comments were echoed by committee Chairwoman Marti Emerald.
Frank DeClercq, president of the firefighters Local 145, said he was "shocked" by the interim mayor's decision, and said he believes the department can make a bid.
"I think Mr. Gloria has totally disregarded what this committee said last month," DeClercq said.
The interim mayor wrote in his memo that in order to have the SDFRD bid on ambulance services, the RFP would have to be rewritten without the department's help.
That would would open the city to the possibility that a company would be awarded an ambulance contract without fire officials' input, he said.
Sean Kerafin of the San Diego County Taxpayers Association outlined several other potential landmines in taking ambulances in-house, including increased liability, an uncertain rate of collections from patients because of President Barack Obama's Affordable Care Act, the loss of $4 million in annual franchise fees from Rural-Metro and an added $37 million added expenditure — as well as a $21 million initial set-up cost.
Committee member Lorie Zapf said the city is simply not ready to move fast enough to develop a proposal the fire department could bid on. Gloria's plan "fixes the short-term problems that we have.
It will fix the problems we have with our current EMS contract, and then give us the opportunity to seriously, fully explore and vet bringing the ambulance service in-house," Zapf said."This is a huge undertaking."
The interim mayor proposed releasing the RFP next month, making bids due in January and having the contract approved by the City Council in April.
He also suggested extending the current Rural-Metro contract until the winning bidder is ready to take over.
He said he asked Emerald to develop a budget and timeline to provide resources to the SDFRD so it can bid on a future ambulance contract.