This is an archived article and the information in the article may be outdated. Please look at the time stamp on the story to see when it was last updated.
SAN DIEGO — A popular restaurant and bar in Lakeside caught fire early Saturday morning, causing extensive damage to the kitchen and roof, and smoke and water damage to the rest of the business, according to the Lakeside Fire District.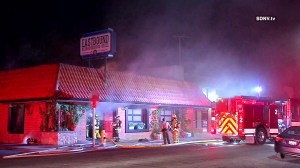 The fire broke out in the kitchen shortly after 4 a.m. at the Eastbound Bar & Grill in the 10000 block of Maine Avenue in the old downtown Lakeside business district, Capt. Scott Culkin said in a statement. Firefighters had the flames out within 10 minutes of arriving and were able to spare the front seating area of the restaurant.
Twelve crews  from Lakeside, Santee and Heartland Fire responded to the blaze and were credited with saving the business from becoming a total loss.
The cause of the fire was under investigation, although the owners told FOX 5 they believe it was due to faulty electrical wiring.
"I had emails sent to me before I even knew about [the fire]," said Julia Geygan, manager of the restaurant.
Eastbound is known for doing supporting the Lakeside community, including hosting fundraisers and partnering with local causes. Now, the community is reaching out to help them.
"It's crazy the amount of support we're receiving," said Geygan.  "We definitely have our work cut out for us. We will need to do a complete rebuild of our kitchen."
The owners hope to have the restaurant fully reopened within six weeks.
An estimated dollar amount for the loss was not released by fire officials.
Kitchen is charred inside Eastbound Bar & Grill in #Lakeside. Owners vow "we'll be open again soon."@fox5sandiego pic.twitter.com/6YNablB5Oo

— Robert Burns (@RobertBurnsTV) March 26, 2016
More from FOX 5: