This is an archived article and the information in the article may be outdated. Please look at the time stamp on the story to see when it was last updated.
SAN DIEGO — Famed lawyer Gloria Allred filed a sexual harassment lawsuit Monday against Mayor Bob Filner and the city on behalf of the mayor's former communications director.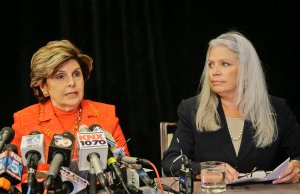 Allred announced the suit at a news conference where she introduced her client, Irene McCormack Jackson. She is the first woman to publicly claim that the mayor sexually harassing her. Two other women have made anonymous accusations through a group of former Filner supporters.
Jackson, who resigned from the Filner administration in June, was the vice president of public policy for the San Diego Port District before she resigned to work for Filner. She continues to work for the city as director of communications for operations.
VIDEO: Watch entire news conference
Allred said that before today, it had been alleged that Filner told an employee that she would work better if she worked without her panties on.  The woman was not named. "Irene is the woman," Allred said.
During the six months that Jackson worked for Filner, he told her that he wanted to "see her naked," wanted to "consummate their relationship" and that he wanted to marry her, Allred said.
The lawsuit alleges that Filner's sexual harassment of Jackson and other unnamed women "created an intimidating and hostile work environment for her," Allred said.
Jackson said that she took a $50,000-a-year pay cut to work with Filner because she believed in what Filner stood for and wanted to be part of his administration. The six months that she worked for Filner, however, were the most difficult of her career, she said.
"I had to work and do my job in an atmosphere where women were viewed by Mayor Filner as sexual objects or stupid idiots. I saw him place his hands where they did not belong on numerous women. I was placed in the Filner headlock and moved around like a rag doll while he whispered sexual comments in my ear," she said.
She said she had no relationship with Filner outside work, and she never gave the mayor any reason to think otherwise.
"His behavior made me feel ashamed, frightened and violated," Jackson said. "He is not fit to be mayor of our great city. He is not fit to hold public office."
The sexual harassment allegations were first aired publicly 10 days ago by former Councilwoman Donna Frye and lawyers Cory Briggs and Marcos Gonzalez, who said the victims were two constituents and a city employee.
The mayor initially apologized and admitted that he had a problem. More recently, however, he has demanded an investigation and his due process rights.
Numerous area office-holders and civic leaders have called on him to resign.
The lawsuit seeks unspecified damages. Allred said she plans to ask for what is supported by evidence that eventually comes out.
Allred did not comment when asked whether her client complained to supervisors or whether she knows of potential other victims.