This is an archived article and the information in the article may be outdated. Please look at the time stamp on the story to see when it was last updated.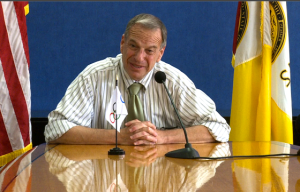 SAN DIEGO, CA — San Diego Mayor Bob Filner spoke out against critics of his proposed hold to an $80 million bond, part of the city's 5 year plan to put a dent on the $898 million backlog in infrastructure repairs.
"That's 80 miles of roads that won't get worked on," said City Councilmember Kevin Faulconer.
"That's just a misreading," said Mayor Filner responding to the Councilmember's statement.
Filner says the proposed delay on the borrowed cash which his staff says would last no more than 7 months, is meant to save the city as much as $5 million in debt payments.
And he added the city would have enough money during that time to keep up with scheduled repairs.
"We haven't used all the money that we have authority for and to issue another bond and pay interest on it at a time when we have the cash to do the infrastructure it just doesn't make any sense," said the Mayor.
The city's top political leader also took time to talk about his recent meeting with former Presidential Candidate Mitt Romney, who he met to discuss his idea for a Bi-National Olympic bid with Tijuana.
"He gave us some reality checks," he said.
"Some cities have built vast new public transportation structures, that's a credible expense I'm not sure we could handle that," the Mayor added.
Filner also didn't hesitate to react to City Attorney Jan Goldsmith's claims the Mayor's proposed cuts to his department are politically targeted.
He even went as far as saying that Goldsmith isn't pulling his weight.
"All I've seen in recent months while I've been Mayor are losses in court, lectures from the court on how incompetent the representation has been," he stressed.
He also criticized the City Attorney for speaking to the media.
"The city attorney should be taking care of legal matters, not holding press conferences," said Filner.
The Mayor also expressed concerns over the recent Federal raid at a Medical Marijuana dispensary in downtown San Diego, calling it "over the top," and said it looked like retaliation to the city's efforts to come up with an ordinance to regulate them.
When asked for an update on the drafting of that ordinance to which he said, "it's been sent over to the City Attorney, but with all those vacancies I don't know if he'll be able to do it."