This is an archived article and the information in the article may be outdated. Please look at the time stamp on the story to see when it was last updated.
SAN DIEGO — Bob Filner will be sworn in as San Diego's 35th mayor today at an inauguration ceremony in which re-elected City Attorney Jan Goldsmith and members of the City Council also will take the oath of office.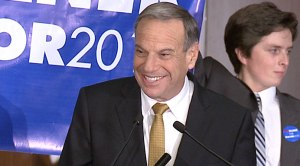 The event at the Balboa Park Club begins at 10 a.m. and is open to the public.
Filner, the former 10-term congressman from the South Bay, defeated departing Councilman Carl DeMaio in last month's general election to succeed Jerry Sanders. He based his campaign on giving power at City Hall to neighborhoods, not what he called downtown special interests.
Filner previously served on the City Council and San Diego Unified School District Board of Education and was a professor at San Diego State University.
At his final news conference last week, Sanders said his staff has been working closely with Filner's on the transition. He said he planned on having a few beers this afternoon.
"My wife and I are going to focus on getting to know each other again," Sanders said. Rana Sampson left her job at the San Diego Center for Children last week and the couple plans to spend three months in Italy early next year.
Sanders will begin his new job as CEO of the San Diego Regional Chamber of Commerce when he returns.
Goldsmith was re-elected without opposition.
Returning council members to be sworn in are Marti Emerald, Todd Gloria and Sherri Lightner. Gloria is expected to be named City Council president this afternoon.
Newcomers Mark Kersey and Scott Sherman will also take their seats on the panel today.