This is an archived article and the information in the article may be outdated. Please look at the time stamp on the story to see when it was last updated.
SAN DIEGO — In an effort to bring more jobs to America's Finest City, San Diego Mayor Bob Filner is looking to the Middle East.
Mayor Filner had a long lunch Wednesday with Prince Mired Zeid Raad Al-Hussein of Jordan.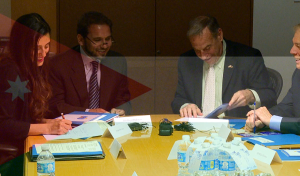 Also in the meeting were Qualcomm executives, healthcare CEO's and businessmen and women who are looking to see what the Arab nation has to offer.
"Keep in mind Mexico is our biggest international business partner, but we have to expand around the world," said Filner, who adds he happens to know the King and Queen of Jordan and has even visited the Middle Eastern country.
Filner said fostering a relationship between America's Finest and the capital of Jordan, Amman, could be a win for San Diegans.
"Investments in Jordan and reverse that will create jobs in transportation, in the healthcare industry and in the capital markets," the mayor said.
"Amman needs energy. San Diego has some of the brightest greatest companies in energy," said Jaqueline Isaac, a local attorney who is serving as liaison for the Jordanian prince.
Isaac said with San Diego's Mexican community, our city should take advantage of its cultural diversity and foster relations with the Arab world.
"We have so many Middle Easterners living here," said Isaac.
The prince and the mayor signed a symbolic document, a "Declaration of Friendship," to foster business between the two in the future.
Interest has already been shown in water and energy technology exports, as well as starting study abroad programs to Jordan.
But while Jordan is considered by many to be one of the safest nations in the Arab World, it borders Iraq and Saudi Arabia, which has made some raise the issue of safety.
"We pray and hope things calm down in the region because the region has so much potential," said the Jordanian prince.