This is an archived article and the information in the article may be outdated. Please look at the time stamp on the story to see when it was last updated.
SAN DIEGO – A Pacific Beach woman thinks her two passions – painting and boxing – will help her earn a spot on the USA Olympic team for the 2012 games in London.
"It was crazy how related they were," Danyelle Wolf said. "The more I painted the more techniques I came up with and the better I got. The more I boxed the more I learn and the better I get."
The 27-year-old Pacific Beach resident moved to California from Pennsylvania with a degree in art and education, but no boxing experience.
She said about three years ago, someone told her she should give it a swing.
"They said, 'You have the perfect build, the perfect height, the arm reach, the muscle definition and everything," Wolf said.
So the 6-foot Wolf, who played field hockey, basketball and ran track in college, hooked up with coach Chris Lerma who laced up her gloves.
"It's crazy just to think that two or two-and-a-half years ago I didn't even know what a jab was," Wolf said. "Now I am almost number one in the nation. So it was pretty funny that it happened in two-two-and-a-half years."
Wolf also got into painting, teaching herself the techniques.
She even persuaded La Jolla gallery owner, and part-time basketball coach, Richard Sertucha, to sell her paintings in his Coliseum Fine Arts gallery. Wolf's hope is to sell enough paintings to help pay for travel and living expenses while she chases her dream.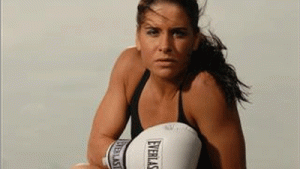 "If she stays focused, I see no reason why she doesn`t complete her Olympic dream," Sertucha said. "She's a fabulous athlete."
Wolf said she trains at least six hours per day between sparring at the gym in North Park, running on the beach, and working out in her garage that she has converted into a workout room.
Her challenge is not beating her opponent to a pulp, but rather perfecting the sport – although, she said she has won nine of her ten fights – six by knockout.
Wolf said she wanted to compete in the Olympics since the first grade, and she has determined that she will make it in the 165-pound class on the first USA Women's boxing team.
"If I say I am going to be in the Olympics I do it," Wolf said with conviction. "Because I do whatever it takes to get it done. I don't see it as being cocky, I'm confident that I put in the time and hard work and I'll do whatever it takes to get it done."
Wolf plans to compete at the Ringside World Championship Tournament August 15 – 20 in Kansas City, and the Blue & Gold Tournament September 1 – 5 in Inglewood, California. She will use those tournaments to help her fine tune some things before the last-chance Olympic qualifying tournament in October in Ohio.