This is an archived article and the information in the article may be outdated. Please look at the time stamp on the story to see when it was last updated.
SAN DIEGO – U.S. Fish and Wildlife Service officials are pressuring the city of San Diego to close some of the most popular trails in Mission Trails Regional Park to hikers and mountain bikers.
A letter was sent San Diego city officials stating several trails, including the entire trail system in Spring and Oak canyons north of state Route 52, are unauthorized and have been illegally built within a federal conservation area.
READ THE LETTER URGING TRAIL CLOSURES
The letter from the Fish and Wildlife Service and the California Department of Fish and Wildlife said that the illegal trails have "adversely impacted sensitive biological resources" in the area an threaten Mission Trails Regional Park's "function as a core biological area and regional wildlife corridor." The letter requested the city to immediately close the area north of state route .
The letter also called on the city to restrict trail use on Cowles Mountain, the Fortuna Mountain-Mission Gorge area and the West Sycamore area.
Yet, some argue the trails have been hiked and biked by many San Diegans for decades.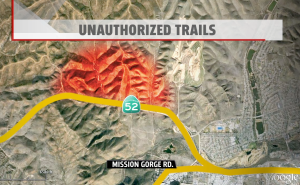 Mathew Kuhl was hiking one of the trails north of SR-52 on Wednesday.
"It's an amazing display of flowers, it's really unlike any other thing in San Diego," said Kuhl.
USFWS officials also asked the City of San Diego to enforce rules to keep people out of these trails, which could include fines.
The San Diego Mountain Biking Association, which opposes the enforcement, released a statement:
"Trail closures rarely work as intended, often resulting in negative consequences such as unauthorized trail building and use in previously unaffected areas."