This is an archived article and the information in the article may be outdated. Please look at the time stamp on the story to see when it was last updated.
SAN DIEGO — Narcotics enforcement officers raided a downtown San Diego medical marijuana dispensary and nine indoor cannabis cultivation sites in the North County Tuesday, seizing plants and documenting alleged violations, according to authorities.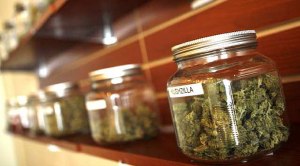 There were no immediate arrests in the ongoing investigation, according to the U.S. Drug Enforcement Administration, which carried out the operation along with the multi-agency regional Narcotics Task Force.
A precise accounting of the amount of marijuana seized was unavailable as of early afternoon, DEA spokeswoman Amy Roderick said.
The raid comes just a day after San Diego city officials discussed the possibility of drafting an ordinance to legalize such dispensaries.
"It's an on going investigation, I can't give out details," said DEA Special Agent Patrick Kelly when asked if Monday night's City Council meeting had anything to do with the raid.
The bust has taken many by surprise given San Diego Mayor Bob Filner's recent announcement that city officials would halt prosecutions against dispensaries.
Agent Kelly says while medical use of marijuana is legal in the state of California, he and his agency will continue to enforce and stand by federal law, "Under federal law, it is illegal to use and distribute marijuana," he stressed.
Mayor Filner did not return calls for comment Tuesday.
City Council President Todd Gloria sent out a statement in response to the raids; "Today's raid demonstrates the ongoing conflict between California's allowance of marijuana for medicinal purposes and the federal government's view of it as an illegal substance," stated Gloria.