This is an archived article and the information in the article may be outdated. Please look at the time stamp on the story to see when it was last updated.
SAN DIEGO – Federal officials recommended Tuesday that the states should reduce the legal blood alcohol limit from 0.08 percent to 0.05 percent.
The reduction would allow about one drink for a woman under 120-pounds and two drinks for a 160-pound man.
Thousands of people are killed or injured every year by drivers under the influence of alcohol and the change could cut the risk of alcohol-related crashes in half, the National Transportation Safety Board said.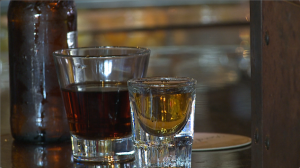 Opponents said they worry one drink would put many drivers over the limit.
Duck Dive in Pacific Beach is a popular place to grab a drink, but if the feds have it their way, owner Tom Winn worries his restaurant may lose business.
"I mean if somebody wants to come down to the beach and they want to have a couple drinks, have some dinner, have some lunch, it might deter (them)," Winn said. "If you're dropping (the limit) from .08 to .05 that's tough. That's literally two cocktails and (they) could get a DUI leaving the place."
According to the NTSB, the risk of crash is half as much at .05 percent and more than 100 countries have similar laws in place.
The American Beverage Institute argues 70 percent of fatal drunken driving accidents are caused by impaired drivers at nearly twice the legal limit.
The NTSB doesn't have any authority to make the .05 percent limit law of the land, but the recommendation could put pressure on lawmakers.
"The .08 and .05 to begin with is not that much and people need to realize that it doesn't take very much to reach that legal limit," California Highway Patrol Officer Brian Pennings said.
Winn agrees and he hopes lawmakers look at more practical ways to keep people from drinking and driving.
"It's a bad decision. It's a horrible thing to do," Winn said. "I think the way you can deter them is raise the fine, hurt them in the pocket book. That's a good way to scare people off from doing something like that."