This is an archived article and the information in the article may be outdated. Please look at the time stamp on the story to see when it was last updated.
SAN DIEGO – U.S. Department of Treasury announced that married same-sex couples will be allowed to file joint tax returns with the Internal Revenue Service.
"Today's ruling provides certainty and clear, coherent tax filing guidance for all legally married same-sex couples nationwide," Treasury Secretary Jacob Lew said. "It provides access to benefits, responsibilities and protections under federal tax law that all Americans deserve."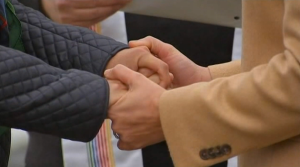 The decision means married same-sex couples will now be treated equally in the eyes of the federal government, including having access to social security and pension benefits, but it doesn't mean more cash.
"Many couples will see little to no difference and some couples in the higher income tax brackets that would be more subject to the marriage penalty rules that is built in for the traditional couples may see their tax bill go up," CPA Chris Cundari said.
Cundari said before the decision married gay couples had to file separate returns under the community property rules.
Every case is different, but based on his analysis lower income couples are the most likely to see a noticeable difference.
Even if high-income couples pay more now, Cundari said the ruling does have significant long-term benefits for all married same-sex couples.
"If one of the individuals passes away, a survivor could be eligible for pension benefits [and] a survivor could be eligible for social security benefits," Cundari said. "This wasn't allowed under DOMA in the past."