This is an archived article and the information in the article may be outdated. Please look at the time stamp on the story to see when it was last updated.
SAN DIEGO — A federal judge ruled Thursday that the long-disputed cross on Mt. Soledad is an unconstitutional religious display on government land and it must come down.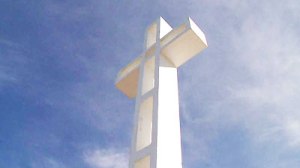 U.S. District Judge Larry Burns ordered that the cross must be removed from the federal war memorial on Mt. Soledad within 90 days, but he immediately stayed his order pending and expected appeal by the government, according to James McElroy, one of the attorneys in the case.
Representatives with the Mt. Soledad Memorial Association believe the case is far from over.
"We have 90 days in which to appeal his order, which we will do," said Bruce Bailey, Mt. Soledad Memorial Association.
The ruling came in a lawsuit brought by the American Civil Liberties Union and McElroy on behalf of the Jewish War Veterans of the United States of America and several other San Diego residents.
The Mount Soledad Memorial has been the subject of ongoing litigation for the last two decades. In January 2011, a three-judge panel of the 9th Circuit Court of Appeals reversed an earlier decision by Judge Burns that the cross is part of a larger non-religious war memorial honoring all veterans. Cross supporters appealed the appeals court decision to the U.S. Supreme Court, which refused to hear the case and sent the case back to federal court.
Thursday's ruling by Judge Burns reaffirmed that the cross is an unconstitutional religious display, so it must be removed.
"When men and women go off to war they go off under the flag of the United States, not under a religious symbol," said Jeff Wergeles, Deputy Director of ACLU of San Diego & Imperial Counties.
The government will probably appeal Burns' ruling, hoping to get a second shot at a hearing by the Supreme Court, McElroy said. Some of the more conservative judges on the Supreme Court might want to hear the case now that the removal of the cross has been ordered, he said.
McElroy said that no one wants the cross to be demolished. He said that if the government's appeals are rejected, the cross can be moved to a nearby church on Mt. Soledad. But he and the other plaintiffs in the lawsuit want to see it replaced at the war memorial with a more inclusive, non-religious symbol, such as a large American flag.
"The flag would be a perfect solution," he said.