This is an archived article and the information in the article may be outdated. Please look at the time stamp on the story to see when it was last updated.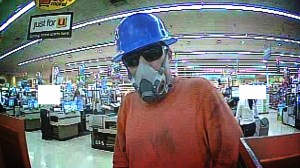 SAN DIEGO — An unarmed robber wearing a hard hat and a mask held up a bank inside a supermarket in Solana Beach, authorities said Thursday.
FBI Special Agent Darrell Foxworth said the suspect, a male of unknown age, demanded money in specific denominations from a teller at the U.S. Bank branch in the Vons supermarket in the 900 block of Lomas Santa Fe Drive in Solana Beach around 7 p.m. Wednesday.
Foxworth said the suspect fled in an unknown direction. No injuries were reported.
The suspect was a white male, between 5 feet 8 and 5 feet 10, weighing approximately 170 pounds, wearing dark glasses and a pesticide protective mask under a light blue hard hat, Foxworth said.