This is an archived article and the information in the article may be outdated. Please look at the time stamp on the story to see when it was last updated.
SAN DIEGO – From a covert building somewhere in San Diego, FBI agents comb through information related to terrorist threats and places across the county that could be targets.
The scope of the operation shows San Diego is no sleepy hollow, according to agents. Some of the same places that make San Diego a desirable place to live, work and play, make it an attractive target, according to law enforcement agents.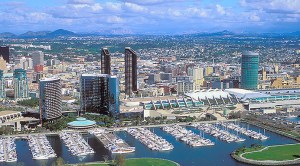 "I think we're a rich environment. That might scare some people," said supervisory special agent Todd Temple.
While San Diegans and tourists are enjoying all this city has to offer, agents are working in the background.
Last year alone, more than 400 tips of possible terrorism around San Diego were received by the FBI. About three dozen agents work to verify the threats.
"The host agency provides security for the venues," Temple said. "Based on our information received, it may change the security posture of that special event."
"When you think about our borders, you think about the military installations here in San Diego."
Agents said the greatest threat is complacency. They advise all San Diegans to remain vigilant.