This is an archived article and the information in the article may be outdated. Please look at the time stamp on the story to see when it was last updated.
SAN DIEGO -- Police and FBI agents raided homes and a College-area gambling establishment Wednesday.  The U.S. Attorney's office says 14 suspects have been indicted as part of this  ongoing illegal gambling and racketeering investigation.
The agencies served a federal search warrant at Lucky Lady Casino and Card Room, 5526 El Cajon Blvd., and River's Sports Bar about 6 a.m. and began gathering "items of evidence'' inside the business, FBI Special Agent Darrell Foxworth said.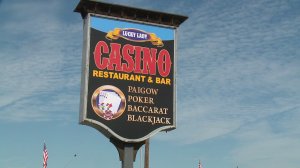 Simultaneous searches were ongoing at multiple San Diego-area residences, where several people were taken into custody, according to Foxworth, who declined to disclose locations of those enforcement actions or identify the arrestees.
Regular casino patron Fernando Ortegon is surprised to hear about the federal investigation and arrests.
"I was surprised, but I know the owners and they're cool guys," said Lucky Lady Casino Patron, Fernando Ortegon. "But I'm sure the authorities know better than I do but I don't see any shady stuff over here."
He says in all the years he's gambled at the Lucky Lady, he's never seen anything unusual or out of the ordinary.
"I mean, I've been playing here for several years, for about 3 years, 4 years and I have never had any problems. I've never seen any crime going on or anything whatsoever. So if this happened this morning, I have no idea why," said Ortegon.
The FBI spokesman said he also could not specify the nature of the investigation because the warrants had been sealed by a judge.
The U.S. Attorney's Office in San Diego released federal indictments Wednesday afternoon with details of the investigation.